Digital studio recordings under the artistic and technical direction of the composer Peter Hübner.
THE COMPOSER ON HIS
CELLO CONCERT No. 1

CLASSIC-Life: Herr Hübner, there are different recordings of great cello orchestras. Such an orchestra set-up is absolutely unusual.

PETER HÜBNER: Yes – you could say that. In cello concerto No. 1, the cello solo is accompanied by a very large cello orchestra, which is about the size of a large philharmonic orchestra.
But this extravagance is worthwhile, in my opinion, as the special sound character of the cello, and its personal expression, are thus supported by many of its kind.

Otherwise, you never have the opportunity to hear such a large cello orchestra – here you have it.

The same applies to the two other pieces of work, The Great Celli Orchestra No.1 and No. 2. It is astonishing what richness of sound the celli are able to produce in almost the entire range of hearing. I shall continue to extend this series.
A Micro Music Laboratories production • Digital studio recordings under the artistic and technical direction of the composer Peter Hübner.
© Aar Edition International 1999 • ℗ United Productions International 1999 • All rights of the manufacturer and of the owner of the recorded work reserved. Unauthorized public performance, broadcasting, lending and copying of this recording prohibited.

Publishing Duplicating Broadcasting
Classical Music Group
Aar Edition
Micro Music Laboratories
United Productions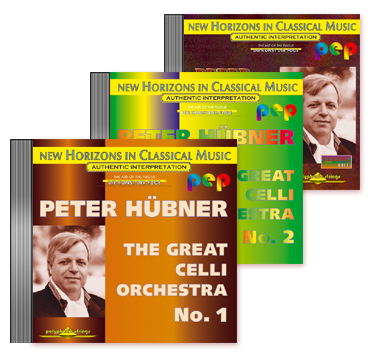 Cello Concert No. 1
The Great
Celli Orchestra No. 1
The Great
Celli Orchestra No. 2


Peter Hübner
• Cello Concert No. 1
• The Great Celli Orchestra No. 1
• The Great Celli Orchestra No. 2

label: Polyphonic Strings
total playing time: 2h 37'48"




Peter Hübner – Cello Concerts - Contents

CLASSICAL MUSIC GROUP
p r e s e n t s
PETER HÜBNER
GERMANY'S NEW CLASSICAL COMPOSER

Authentic Interpretation