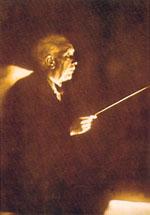 Richard Strauss

Richard Strauss
on his work
at his two Operas
Elektra &
Der Rosenkavalier


"While the ideas were flowing in upon me – the motives, themes, structure melodies, harmonic garb, instrumen­tation – in fact the entire musical measure by measure – it seemed to me that I was dictated to by two wholly different Omnipotent Entities. I imagine that Shakespeare experienced similar sen­sations when he wrote such widely contrasting works as King Richard III and Mid­summer Night's Dream. The capacity for the reception of so totally diverse influxes fills me with amazement."
THE COMPOSER ON HIS
HYMNS OF
FEARLESSNESS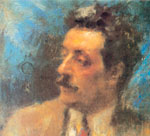 Giacomo Puccini


Giacomo Puccini

ON HIS IDEAL CONDUCTOR

"Did you ever hear Toscanini conduct La Boheme? Well, you have something of great moment to look forward to.

No other conductor gets out of my scores what he does. It was Toscanini who conducted the premiere of La Boheme at Turino.
He was then only twenty­nine years old. His interpretation was more than a great reproduction – it was a veritable recre­ation.
I sat there enthralled. Toscanini and I often disagree; we have violent quarrels and call each other all kinds of vile names, but we always become recon­ciled again, because we have a genuine respect for each other as musicians. I am nine years older than he is, but in many ways, he is musically much more advanced than I am.

He is a genius! Under his magic baton, my scores, and those of Wagner and Verdi, become illumined and the manner in which he trans­lates that luminosity into sound baffles des­cription.

Moreover, Toscanini con­ducts everything from memory. His phenomenal memory is the despair of all other conductors.
When I heard him lead the orchestra and singers through the four acts of La Boheme at that Turino premiere without a note in front of him, I felt like shouting what Nicodemus said to Jesus: 'Rabbi, we know that thou art a teacher come from God; for no man can do these miracles thou doest except God be with him.'"
CLASSIC-Life: Herr Hübner, can you tell us something about your "Hymns of Fearless­ness"?

PETER HÜBNER: The "Hymns of Fear­lessness" form the synthesis of various generations of "Hymns of the Dancing Dragon" – two worlds poles apart, for which – as far as the archaic orchestras in the diffe­rent hymns are concerned – it is partly easy and partly difficult to join together.

The "Hymn of Fearlessness No. 1" consists of one chorus and an archaic orchestra. Chorus and orchestra lie tonally several generations apart.

The "Hymn of Fearlessness No. 2" consists of one chorus and two orchestras – the two orchestras tonally playing neighbouring generations, such as grandparents / parents or parents / children or children / grandchildren.
The "Hymn of Fearlessness No. 3" has three orchestras, which are tonally related to each other in a first and second degree of relation­ship, i.e. for instance grandparents / parents / children.

The "Hymn of Fearlessness No. 4" has 4 orchestras which are tonally related to each other in a first, second and third degree, i.e. great-grandparents, grandparents, parents and children – all four generations under the one roof of this hymn.

The "Hymn of Fearlessness No. 5" has 5 orchestras which are tonally related to each other in a first, second, third and fourth degree, i.e. great-grandparents, grandpa­rents, parents, children and grandchildren.
With every additional generation under the roof of the hymn, the tension and chaos: the less calculable rhythmical and tonal order increases – as far as the whole orchestra is concerned.

The person who has sung the chorus to these hymns in all five related houses, has learned what fearlessness means: not to be confused by the chaotic environmental effects of the orchestra, including release, explosions and spectres in the various generations.

The picture on the CD-cover shows the prehistoric giant Ymir, known from Germanic mythology, who embodies the cosmic ability to think, and can supposedly give a person who unexpectedly sees him inside, a tremendous fright – even heroes, who are otherwise regarded as fearless, are said to have shaken like a leaf at the unexpected sight of the prehistoric giant Ymir. People claim that only the self personally and/or the soul could perhaps look at the prehistoric giant Ymir, without being afraid – and that is in fact when it concerns the "Great Soul". The great philosophers say that the universal faces the cosmic without fear.

Ymir is the most comprehensive perception of thinking and its effects on neuro­physiology as well as the entire cosmos.
Ymir is therefore also the ancient symbol for the cosmic ability to think and perceive.